Laodicea - Art to Build the Spirit
The Seven Churches of Revelation Series
Few believers today want to identify themselves with the church of Laodicea. This is the lukewarm church, the one which the Lord says he will spew out of his mouth if they don't turn around. Yet some of the greatest promises are also made to her. Jesus says to us, if we overcome, he will grant to sit with him on his throne, just as he overcame and sat down with his Father on His throne.
After warning her to be either hot or cold, not lukewarm,* Jesus tells her (and this is what is written in Hebrew around the edge), "you say, 'I am rich, have become wealthy, and have need of nothing' - and do not know that you are wretched, miserable, poor, blind and naked - I counsel you to buy from me gold refined in fire, that you may be rich; and white garments, that you may be clothed, that the shame of your nakedness may not be revealed; and anoint your eyes with eye salve, that you may see. As many as I love, I rebuke and chasten. Therefore be zealous and repent. Behold I stand at the door and knock. If anyone hears my voice and opens the door, I will come in to him and dine with him and he with me."
This painting is available for purchase as a poster. Poster size is approximately A2: 61 x 44 cm or 24" x 17.5." Price is 25 Euros plus shipping.
The woman in the painting has already heard the Lord's call to return back to him. She has left the world behind and has scaled the mountain to seek out the Lord. I have characterized the world she left with symbols of materialism, the fast-food mentality and religiousness, which are all attempts to fill the inner hunger but can never satisfy. The biggest problem she had down there in the world is ... distraction.
She has a sword in the hand because in order to get as far as the garden of fellowship with Jesus she has had to learn to fight. She has had to learn to decide what is truly important to her and to go to battle against the tyranny of the urgent, against every distraction which was throttling out her relationship with her Lord.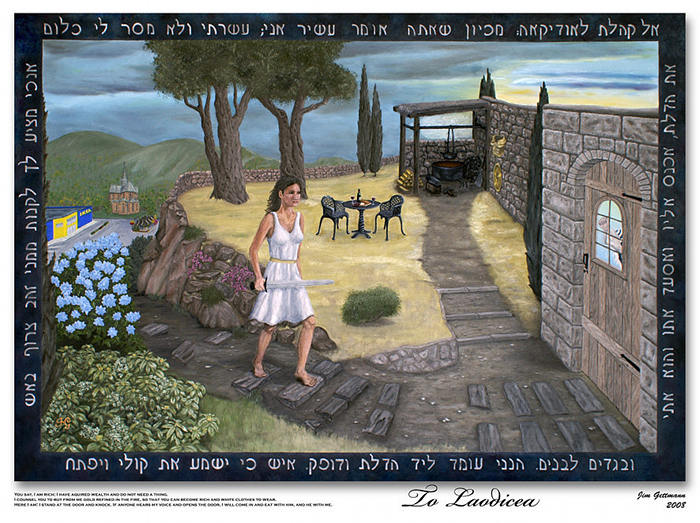 The garden she is coming into is portrayed as an old, ancient garden in the middle east, in Israel, complete with olive trees and cypresses. That is because the ancient faith is a Hebrew faith, not a Europeanized, Greek-rationalistic faith. It is a faith that is down-to-earth and personal, relationship-based. This is also the reason for the Hebrew text of Revelation 3 around the border. We need to return to the foundations of our faith, back to the roots.
And this is the call of her Lord: "Behold I am standing here waiting. If you open the door, then I will come in to you and we can get close!" These words were never an invitation to non-believers to open the doors of their hearts to salvation. They are words directed at the very people of God, who have let themselves be distracted and pulled away from the ONE THING, that one thing which Mary instinctively understood and Martha never did, that before you can begin to serve, you must KNOW the Lord.
Did you notice that the key is in the lock on HER side of the door? The message is the same to you: only can open the door to the Lord. It is you that he is waiting for. The table is set, the garden is peaceful and here you can learn to know your Lord.
Gold refined in fire - the real stuff - is waiting for each one who makes it past pretense religiousness and decides to seek the Lord until he finds him.
The journey awaits You!
* What does it really mean to be lukewarm? Jesus wants her to be either hot OR cold. Hot is not something better than being cold, as it is so often assumed. Something lukewarm is a substance which has adapted itself to the conditions around it. It is no longer different and distinct. Jesus is telling us to be different! Be spiritual. Be holy. Pray in the Holy Spirit and expect God to act! Do not be like the world!